Help Menu
The Help menu provides information about the trace file, the Intel® GPA Platform Analyzer, additional web-based information, and contains the following items.
Trace Information
The Trace Information dialog box displays information about the trace capture file and the target machine – Graphics Driver and Operating System. The data is read-only. This information may be useful when contacting the Intel® GPA support team for assistance.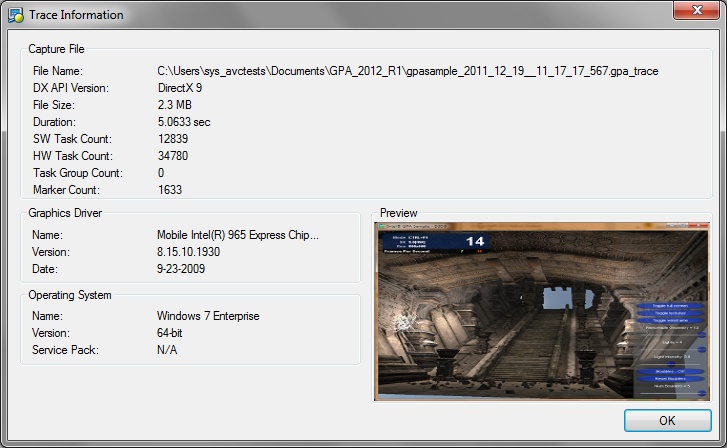 Console
The Console dialog box displays the parse errors and warnings that occurred when loading/parsing the trace file.
Items in the dialog box can be filtered by the severity level:
Show All

– no filtering

Message

– show only informational messages from the parser

Warning

– show only warnings

Error

- show only error messages

Critical

– show only critical messages
Help Docs
Help Docs opens the Intel GPA Online Help. You can download a PDF version of the documentation for your local use from the Intel web site: http://software.intel.com/sites/products/documentation/gpa/12.1/help.pdf.
Intel GPA on the Web
Intel® GPA on the Web links to Intel® GPA online resources.
About Intel® GPA Platform Analyzer
About GPA Platform Analyzer displays information about the version of the product.
Help Menu